Americans generate more than 1.6 million tons of household hazardous waste (HHW) per year, which is equivalent to the weight of 16 average-sized cruise ships. But what is household hazardous waste? This particular waste stream isn't what belongs in your curbside recycling or garbage bins. The United States Environmental Protection Agency (EPA) considers HHW to be any leftover household products that can catch fire, react, or explode under certain circumstances, or that are corrosive or toxic. Products, such as paints, cleaners, oils, batteries, and pesticides, can contain hazardous ingredients and require special care when you dispose of them.
Why proper household hazardous waste disposal matters
As HHW items such as broken blow dryers, unused paints and batteries accumulate under your bathroom sink or in a corner of your garage, it's important to always monitor the use, storage and disposal of products with potentially hazardous substances. While improper disposal methods might not be immediately obvious, pouring liquids down the drain, on the ground, into storm sewers or into the regular trash can pose a threat to human health and pollute the environment.
"Dead batteries, specifically lithium batteries, can cause fires when not disposed of properly," says Joe Baumann, Central Branch General Manager at Veolia North America. "In 2017 alone, nearly 300 waste and recycling facility fires, some due to improper lithium-ion battery disposal, caused multiple injuries and three deaths.
"Mismanagement of electronic waste is not only detrimental to the environment but also misses an ideal opportunity to reclaim precious metals for reuse. Based on electronic waste disposal rates, Americans throw out phones containing over $60 million in gold and/or silver every year."
Thermostats that are neither electronic nor battery-powered likely contain mercury. As many people transition from mercury thermostats to digital ones, it is critical that the old thermostats are properly disposed. Mercury is a potent neurotoxin, and if it's not handled right, it can pollute our air and waterways.
Never mix HHW with other products as incompatible products may react, ignite or explode, and contaminated HHW will become unrecyclable, warns Baumann. Even empty containers of HHW can pose serious hazards because of the residual chemicals that may remain.
What are my HHW disposal options?
When in doubt, always defer to your town or county's website to learn about HHW drop-off events and programs, which may be hosted by your local Department of Public Works. Communities like Allen County in Fort Wayne, Indiana, host an annual event called Tox-Away Day. This once-a-year program allows residents to properly and safely dispose of their hazardous waste products. In fact, the program has been so successful that Allen County launched their own household hazardous waste facility. Since the site opened in July 2019, residents have diverted over 36,000 pounds of HHW from landfill.
Colorado's Boulder County hazardous material management facility serves as a permanent HHW drop-off site and also invites residents to explore the free reusable products that are available. Instead of purchasing new products, residents are encouraged to visit the facility which has free materials including auto, hobby, garden and yard, home maintenance and cleaning products available.
"Household hazardous waste drop-off sites are a fantastic resource for residents and communities," shares Shelley Fuller, hazardous material program manager for Boulder County. "In 2019, we saw more than an eight percent increase in usage compared to 2018 and had over 20,000 drop-offs by residents. We continue to ship over one million pounds of waste each year for recycling, processing and disposal, and have longstanding partnerships with many of our vendors, including Veolia."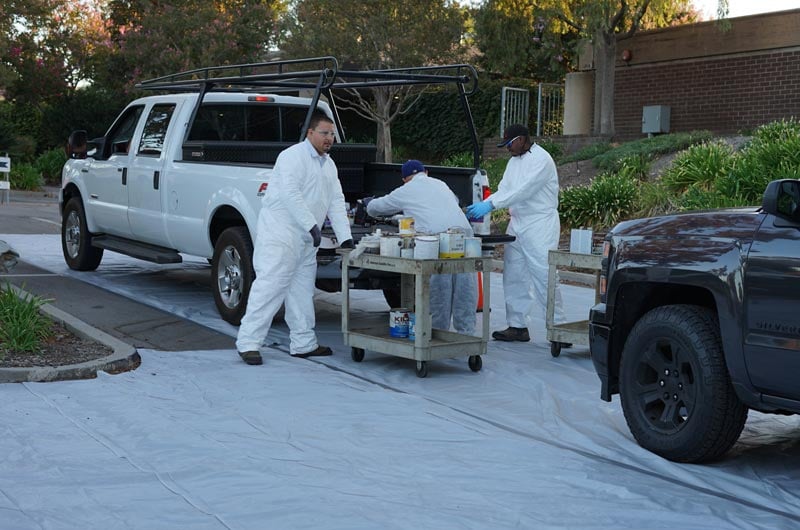 In some instances, electronics retailers such as Best Buy provide consumers with free electronics recycling options. The company is currently the nation's largest retail recycler of used electronics and appliances and provides discounts for recycling certain brands. To date, Best Buy has collected and responsibly disposed of more than one billion pounds of electronics and appliances.
Household hazardous waste: an evolving waste stream
As technology advances, items in the HHW stream are constantly evolving. Materials such as oil-based paint are decreasing in some regions as the demand lessens. Lithium ion batteries are on the uptick as more products such as power tools, cell phones and laptops utilize the rechargeable and extended-life features.
Most notably, new waste streams come in the form of electronic cigarettes and cannabis vapes. A 2017 study on e-cigarette use in Colorado found that 27 percent of teenagers in the state have used these products. The nicotine cartridge and lithium ion battery within the e-cigarette or vape can be difficult to remove and separate. Electronic waste companies are not interested in processing nicotine, which can be considered hazardous waste.
In 2017, too, Fuller noticed an increase in e-cigarettes and vapes being dropped-off at the Boulder County facility. In response, she worked with the County's Department of Public Health on communicating to consumers regarding the potential health impacts of vaping on children, pets and the environment when not disposed of properly.
"We also worked with the City and County of Broomfield who hosted a take-back event where residents traded in their vape device for a summer recreational central pass," explains Fuller. "At the beginning of the 2019 school year, we also implemented a collection program in Boulder Valley School District by providing a bin to each middle and high school to collect the confiscated vaping devices. I'm sure our program will evolve as the use of this waste evolves."
According to the World Health Organization, the number of vapers has increased rapidly — from approximately seven million in 2011 to 41 million in 2018, worldwide. As this number continues to grow, a formalized method for processing this material at end-of-life will become even more necessary. In 2019, the United States Drug Enforcement Administration expanded its "National Prescription Drug Take Back Day" to include the drop-off of electronic vaping devices and cartridges but only if the lithium ion batteries are removed.
Now what?
Across the United States and Canada, residents and consumers are demanding alternative uses for items that have reached their end-of-life. For example, oil-based and alkyd-based paints can be bulked together for energy recovery and latex-paint can be recycled if it's collected. Lithium batteries require specialized handling, processing and disposal due to the natural properties of lithium which make it flammable. Industry and manufacturers must continue to innovate in how this evolving waste stream is produced, processed and becomes part of the circular economy.
Learn more about HHW and harmful household products