Oil and gas production across the U.S. continues to rise to record levels, yielding tremendous opportunities for exploration and production companies, their suppliers and local economies. However, the unprecedented growth in regions, such as Texas and the Northeast, has also given rise to new and unique environmental challenges.
The Growing Importance of Upstream Water Treatment
Produced water is an unavoidable byproduct of hydrocarbon recovery and, by volume, is the largest waste stream associated with oilfield activities. In the U.S. alone, more than 50 million barrels of produced water are generated every day —more than four times daily crude oil production (approximately 12.5 million barrels per day). In some wells, as many as 10 barrels of water are generated for every one barrel of oil.
While produced water can vary greatly in both quality and composition, it is often high in free oil, BTEX (benzene, toluene, ethylbenzene and xylene) and dissolved organics. Total dissolved solids (TDS) also vary depending on formation geology, but in many instances can be as high as 300,000 mg/l, making the water unsuitable for discharge to the surface without treatment.
For every barrel of crude oil produced in the upstream market, up to 10 barrels of water may also be generated.
Today, around 30% of produced water is treated and reused for hydraulic fracturing, water flooding and steam generation. The remaining 70% is disposed of via injection into saltwater disposal (SWD) wells. In recent years, the latter method has come under increased scrutiny from both environmental groups and regulatory agencies, particularly in water stressed areas like California, West Texas and New Mexico where water reuse by the oil and gas industry is increasingly critical. Concerns have also been raised about the effects of reinjection on inducing seismicity. These factors, coupled with the potential operational challenges of overwhelming SWD injection capacity, have forced the upstream industry to begin exploring more sustainable ways of reducing their water footprint by better managing and disposing of produced water.
The challenge many operators now face is how they can maximize their water reuse and minimize SWD injection volumes without impacting production, profitability or the environment.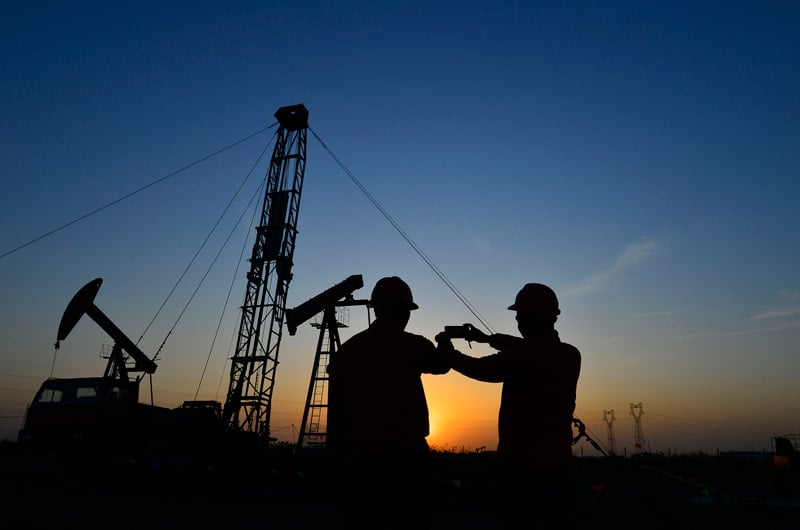 The Oil and Gas Industry's Contribution to the Circular Economy
Beyond its necessary preservation, water, as a carrier of materials and energy, is at the heart of the circular economy. The oil and gas industry's growing use of this resource means that it has a central role to play in transitioning away from linear consumption and more toward circular use. Many operators now recognize this reality and have taken steps to reduce deep well injection volumes by treating produced water so that it can be reused in production operations or discharged to the surface.
In the case of reuse, transportable or mobile water treatment units are brought to the wellsite and used to remove select contaminants from the produced water to create a "clean" brine. This includes particulates like suspended solids, free oil and bacteria; scale formers such as iron; and dissolved gases such as hydrogen sulfide (H2S). The modular treatment units are easily scaled and can typically be commissioned within one to two weeks. Depending on location and operator requirements, the treated water can be used onsite or trucked to water-scarce areas where it is needed for fracking or steam flooding.
Treating produced water for surface discharge is a longer-term reliable solution that typically entails building a dedicated treatment facility. In such cases, anywhere from 75–150 different constituents must be removed in order to meet EPA National Pollution Discharge Elimination System (NPDES) threshold limits. Constituents removed include dissolved salts, such as boron sodium, chloride, nitrate, etc., and dissolved gases, such as ammonia, volatile organics and hydrogen sulfide. Additional treatment processes are also implemented to remineralize the treated water, making it suitable for aquatic life.
The end result is clean effluent that can safely be discharged into surrounding bodies of water. In this way, upstream operators can drastically reduce the environmental footprint of oilfield operations, bringing their organizations one step closer to implementing a fully circular business model.
By treating produced water, the oil and gas industry can:
Reduce its water footprint
Reuse the water for fracking, water flooding and steam flooding
Generate a new water source by discharging clean effluent into surrounding bodies of water
Minimize dependency on saltwater disposal wells
Improve field development
Treating Produced Water for Discharge to the Surface
Veolia has extensive experience helping the upstream industry reduce deep well injection volumes.
In Arroyo Grande, California, for example, an oil producer partnered with Veolia to upgrade its onsite water reclamation facility (WRF). At the site, about 30,000 barrels/day of produced water are generated from steam flooding operations. Approximately 50% of that water is softened and reused for steam generation. Prior to the WRF upgrade project, the remaining volume of produced water was disposed of via injection into Class-II SWD wells. This presented problems, however, as the injection zone capacity of the SWDs was limited. In addition to constraining full field development and threatening to curtail production, injecting high volumes of produced water back into the formation increased reservoir pressure, which reduced the overall efficiency of the oil extraction process.
Veolia proposed treating the produced water so that it could be discharged to the surface and dewater the reservoir. Doing so would allow the operator to substantially reduce liquid waste injection volumes and improve field development. It would also help recharge the local aquifer, which suffered from drought conditions at points during the year, stunting vegetation growth and putting aquatic life, such as trout, in danger.
To enable surface discharge, Veolia applied its unique, proprietary and patented OPUS-II technology to treat the produced water to discharge quality.
OPUS® technology employs a reverse osmosis (RO) process operated at an elevated pH. This unique technology combines chemical softening, membrane filtration and ion exchange softening to generate high quality water with low waste volumes. OPUS technology has been applied in mining, oil & gas, and ZLD (zero liquid discharge) systems for other industries.
The pretreatment processes ahead of the RO are designed to reduce free oil, hardness, metals and suspended solids in the feed water. By operating at an elevated pH, the RO process effectively controls biological, organic and particulate fouling, eliminating scaling due to silica and increasing the rejection of silica, organics and boron.
As a measure to "de-risk" the project, Veolia operates the plant under a 12-year, performance-based contract, which guarantees more than 98% facility uptime. This ultimately improves returns and provides peace of mind to the operator and the surrounding community that oil production at Arroyo Grande is taking place in a sustainable and environmentally conscious manner.
Minimizing the Need for Saltwater Disposal Wells
Similar benefits are being realized in San Ardo, California, where Veolia operates a treatment facility that enables the oil producer to dispose of 50,000 barrels per day of produced water via surface discharge. Another 75,000 barrels of water per day are treated and used for steam generation.
The raw produced water for the field is roughly 200°F, and contains about 25 ppm free oil, 80 ppm TOC, 240 ppm silica, 26 ppm boron, 240 ppm hardness and 6,500 ppm TDS. The project goal was to reduce the feed water TDS to less than 510 ppm and boron to less than 0.64 ppm for discharge, while achieving 75% water recovery across the treatment system and minimizing the volume of produced water requiring re-injection. For steam generation, the project goal was to reduce the feed water hardness to less than 2 ppm total hardness.
The facility was commissioned in 2008 and has allowed the company to maintain oil production capacity by avoiding deep well injection, while ensuring that produced water from the field is disposed of in a truly sustainable and circular manner.
Planning for Future Resource Recovery
As oil and gas production from both conventional and unconventional plays across the U.S. continues to grow, so too will volumes of produced water. While in many cases, it may not be economically or technically viable to eliminate deep well injection entirely, the industry must strive to adopt more sustainable methods of managing its wastewater, particularly if it is to avoid overwhelming SWD well capacities and creating future production bottlenecks.
Implementing treatment solutions that enable reuse or surface discharge will play a key role in addressing these challenges and facilitating production growth, while simultaneously meeting stakeholders' calls to implement more circular business models.
Learn more about the new challenges for the oil and gas industry in 2021.