Coal-fired power plants are facing immense pressure to reduce the environmental footprint of their operations. One area that has come under increased scrutiny in recent years is the industry's management of its effluent wastewater.
In 2015, the Environmental Protection Agency (EPA) finalized a rule that revised regulations for the Steam Electric Power Generating Effluent Guidelines and Standards (40 CFR Part 423). The rule set new limits on contaminants that can be discharged from coal-fired power plant processes, including flue gas desulfurization (FGD), bottom ash transport, fly ash transport, flue gas mercury control, fuel gasification, and combustion residual leachate.
While the initial deadline for compliance with the rule was set for April 2019, it was pushed back to the fall of 2020. Last year, the EPA's proposed revisions would further extend the deadline to 2028. A final decision on the amendment is expected later this year.
If passed, the extension will provide coal-fired plants with flexibility as to how they operate their plants over the next seven years. However, it only delays the inevitable decision operators face: implement the necessary measures to comply with the new regulations or decommission their plants.
The risks of mismanaging your byproducts
The vast majority of coal power plant byproducts — such as coal ash or coal combustion residuals (CCRs) — are mixed together with water and then discharged into surface impoundments or coal ash ponds, where particles can settle out. The ash ponds can range in size from less than 100 acres to over 1,000 acres. There are over 1,400 documented ash pond sites across the U.S. today. An estimated 110 million tons of coal ash is discharged into the ponds every year.
In recent years, management of coal ash ponds, also known as coal ash basins, have come under increased scrutiny from federal regulators and environmental activists. Much of this is attributable to a number of high-profile spills/leaks over the years — two of the most notable of which occurred in Kingston, Tennessee, in 2008 and in Eden, North Carolina, in 2014. Overall, the EPA estimates that up to 95% of the coal ash ponds across the U.S. have leaked, allowing hazardous material to enter into sensitive rivers and groundwater supplies used for drinking water. Companies can be fined upwards of millions of dollars or even face permanent closure for the mismanagement of their coal ash byproduct.
New EPA regulations aim to address this concern by reducing the amount of coal ash and other pollutants that plants can discharge by forcing operators to more aggressively treat their effluent wastewater. Plants that fail to comply with the rules will be forced to decommission.
The wastewater treatment solution for power producers
Regardless of whether plant operators decide to remain operational or shut down, a comprehensive wastewater treatment solution will be required. In the latter scenario, a plan will have to be put in place to remove wastewater from onsite ash ponds and remediate the site.
For plants that decide to remain in operation (particularly those that are not in proximity to sensitive bodies of water), effluent may be suitable for discharge after undergoing minimal treatment. Other plants, however, may require more complex treatment systems in order to achieve extremely low concentrations of contaminants, such as nitrates and/or heavy metals.
In certain instances, it may be beneficial for the operator to consider a zero liquid discharge (ZLD) solution. ZLD systems use common wastewater technologies, including brine concentrators and brine crystallizers to maximize water reuse and minimize makeup demands. High-quality water is recovered from effluent streams and recycled/reused in upstream plant processes including cooling towers, FGD scrubbers, and demineralizer makeup water. The systems are designed to address issues such as limited water supplies, stringent discharge permit requirements, and elimination of onsite waste ponds altogether.
Ultimately, because wastewater composition can vary significantly based on individual plant processes, there is no one-size-fits-all treatment solution that can be applied across every facility within the power industry. Solutions must be customized and take into account a wide range of site-specific factors, such as operator objectives, geography, proximity to drinking water supplies and local townships, etc.
Benefits of outsourcing wastewater treatment services
When evaluating strategies for complying with new EPA rules, operators should weigh the benefits of outsourcing wastewater treatment to a third party. These services are typically delivered through performance agreements in which the solutions provider agrees to meet predetermined levels of water quality, treatment volume, plant uptime, etc.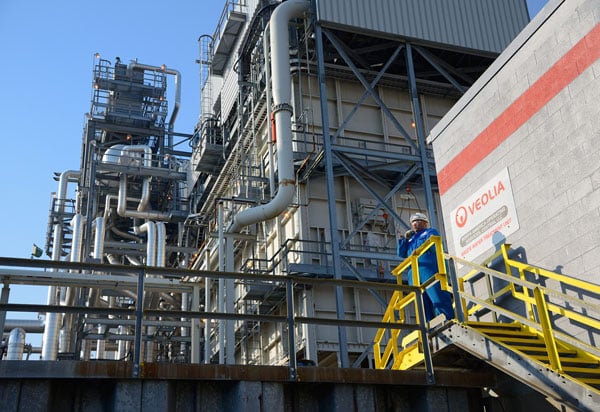 Responsibility for staffing, maintenance, and investment associated with upgrading and maintaining the wastewater treatment system or facility falls solely on the service provider. This affords a number of key benefits to the power plant operator:
Allows the operator to focus financial and manpower resources on power production
Transferring responsibility for wastewater to a third party provider enables power plant operators to focus their resources on core plant processes that drive electricity production. Operators can dedicate critical manpower in management, engineering, operations, and maintenance to areas where it is needed most, and replace lost proficiency from workforce attrition.
Improves plant efficiency, performance, and reliability
Because the solutions provider is an expert in wastewater treatment, they are better equipped to manage onsite treatment facilities and can often implement approaches, technologies and strategies to ensure that water quality standards are met in the most cost-effective manner. This is especially relevant when it comes to FGD wastewater. Many coal power plants do not have sufficient capacity or the proper technology to treat high volumes of FGD waste, which can contain high levels of chloride.
Ultimately, outsourcing wastewater responsibilities to an expert allows the operator to guarantee high levels of performance and uptime while mitigating the risk of lost electricity production, fines or even potential shutdowns due to non-compliance with discharge requirements.
Offloads responsibility and risk
Structured agreements underpinned by performance guarantees place responsibility on the service provider to manage the cost and risk of delivering wastewater services within a fixed fee structure. The plant operator is, therefore, protected from unanticipated expenses. All needs related to staffing and maintenance are managed by the service provider, making operating costs more predictable.
The road ahead for coal power plants
Newly proposed EPA revisions to the 2015 regulations are forcing coal-fired power plants to fundamentally reevaluate how they manage their effluent wastewater.
The pressure to reduce environmental impact means the industry will have to move away from the use of ash ponds and adopt more comprehensive treatment strategies that allow for beneficial reuse or safe discharge into drinking water supplies. This will require many existing plants to make significant financial investments to build onsite treatment plants. Outsourcing wastewater services allows operators to offset a portion of that cost by generating long-term operational savings, while at the same time offloading a great deal of risk.
The deadline for when the regulations will take effect is currently in flux. However, it is no longer a question of whether the industry will have to adapt and comply — it is a question of when.
Learn about Veolia's O&M programs that help industry efficiently and safely manage utilities