How well are you, your family and community prepared when an emergency occurs? According to FEMA Administrator Pete Gaynor, "It is important to have these conversations now and prepare ahead of time to be ready for the unexpected."
FEMA's (Federal Emergency Management Agency) campaign for National Preparedness, promoted throughout the month of September, encourages disaster recovery and emergency planning. As an organization dedicated to a culture of safety, Veolia North America espouses this month-long push to emphasize the importance of national preparedness.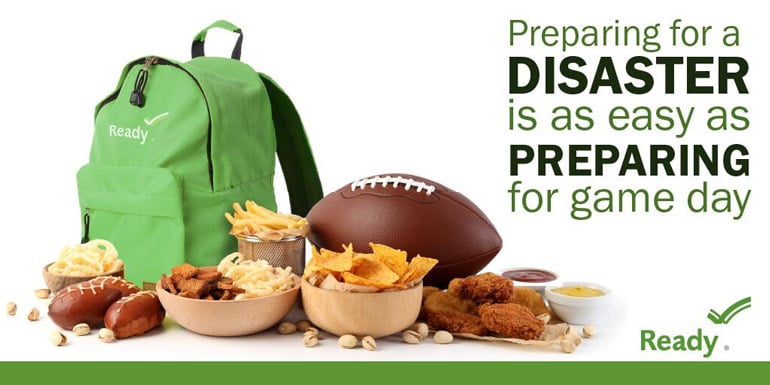 Continue to Get Ready for Hurricanes
Hurricane season is right around the corner. Americans still remember the impact of hurricanes such as Katrina, Sandy, Harvey, and Dorian. Preparation for the unexpected is not a task that can wait. With maximum winds reaching 185 mph, Dorian is the strongest storm on record to hit the Bahamas, leaving 50 dead and thousands in a state of emergency. According to Houston Meteorologist Jeff Lindner, "Preparedness is one of those things that you have to do when nothing is happening, and that's the hardest thing, I think, to get across."
Lindner was referring to Hurricane Harvey, which devastated Houston in 2017, but his advice applies to the importance of vigilance in any potentially dangerous weather event. According to the National Hurricane Center, Hurricane Harvey, caused over $125 billion in damages, flooded 135,000 homes, and affected more than 13 million people throughout Texas, Louisiana, Tennessee, Mississippi and Kentucky.
Though natural events such as hurricanes cannot be prevented, we can gather key lessons to minimize the damage of future storms.
Practice for Dangerous Chemical Spills
Deal with fuming acids? How would you handle a spill? During National Preparedness Month Veolia explains how preparation and training is the key in handling a spill. A disaster recovery plan as well as a highly specialized team with equipment and training can bring the incident to a close as quickly, safely and cost-effectively as possible.
Check out this footage on Fuming Acid Spill Mitigation Training to see Spill School participants learning to safely and effectively handle a simulated spill. While learning in a classroom is important, hands-on training is critical in being able to handle potentially dangerous emergencies like this.
Safely Dispose of Household Hazardous Waste
Did you know that the average home can accumulate as much as 20 pounds of household hazardous waste (HHW) per year?
The EPA considers "leftover household products that can catch fire, react or explode under certain circumstances, or that are corrosive or toxic, as household hazardous waste. Products such as paints, cleaners, oils, batteries and pesticides can contain hazardous ingredients and require special care when you dispose of them."
Since they are hazardous, these products can not be thrown away with your normal household trash. So where do you send them? To wrap up National Preparedness Month, Veolia is supporting several household hazardous waste collection events across the United States, including Adams County in Colorado and Simi Valley and Moorpark in California.