Around the holidays travel volumes skyrocket making routine travel a bit more challenging to navigate safely. Wishing someone "safe travels" before they depart on a vacation does not guarantee their safety. Whether you are spending the weekend in Nashville with friends, jetting off to explore Paris or building homes for people in the Dominican Republic, planning a safe trip should be at the forefront of your mind.
Vacationing in a new state or country can leave tourists vulnerable to crime and more likely to make mistakes they wouldn't normally in their home environment. In order to reduce risk, be proactive and vigilant when preparing for and during your vacation.
At Veolia, our culture of safety applies to far more than our operations and services. As an organization, Veolia emphasizes the importance of health and safety for our employees, customers and surrounding communities. Learn from a variety of tips and tricks, shared by various Veolia employees, that will help prepare you for a safe vacation.
Preparing for a Safe Vacation
When preparing for vacation it's important to plan ahead. You can never be "too ready" because after all, vacations are expensive and you want to make the most of it. Preparation can protect you from getting robbed, having to come back early, or even ending up in the ER. Make sure to do your research beforehand, pre-arrange your finances and pack wisely considering the local circumstances you'll find when you arrive.
Plan Ahead and Do Your Research
Spend extra to ensure safety. Spending a little extra money on reliable airlines, secure hotels, transportation and quality food goes a long way. The cheapest airfare, hostel and cab service might not be the safest option.
Plan out safe transportation. Whether it's renting a car or planning out your private or public cab services, before you arrive, make sure you have a safe and reliable method of transportation for the duration of your trip. If you are unsure of what services are reliable check with your hotel's concierge; they will provide you with reputable cab services and recommend ones to avoid.
Be aware of travel advisories. When you are traveling out of the country be aware of travel alerts and warnings. Consider looking at this international travel.state.gov map that highlights which countries the U.S. State Department recommends where to exercise caution.
Read the reviews. Before you leave on vacation read reviews of places you will be visiting. Some cities, famous markets and tourist destinations are more prone to theft. For example, Barcelona is nicknamed "the pick-pocketing capital of the world," and Bourbon Street in New Orleans and Central Park in New York are known for having large crowds of tourists, leaving people vulnerable to robbery.
Share your travel plans. Alert a close family member or friend that you will be traveling and give them an itinerary for your trip. That way if something happens they know where you are and can help you in a bind.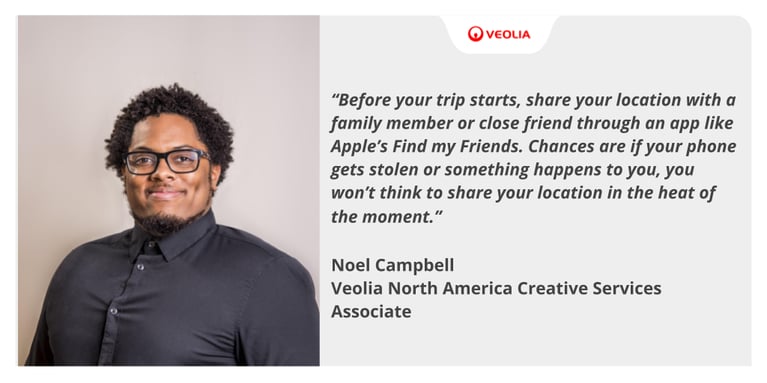 Money Matters
Alert your bank. Before you leave for vacation, be sure to alert your banking company and credit card companies that you will be traveling. This is essential when you are traveling out of the country. Credit card companies may block a card if they suspect suspicious activity, which can leave you in a serious bind.
Exchange money before you go. When traveling out of the country consider exchanging your cash at a bank before you leave. Not only is this safer, but you avoid the expensive fees that currency exchange kiosks at airports often require.
Identify safe hiding spots. Be sure to identify safe spots to hide your personal items beforehand and keep your money and other valuables spread out in different "hiding places."
Things to Bring While on Vacation
Invest in proper luggage. While this may seem like a "nice to have" you need to have secure places for your belongings. Buying a lock for your bag can go a long way. In addition, cheap luggage can break and cause injury as you try to wield heavy baggage.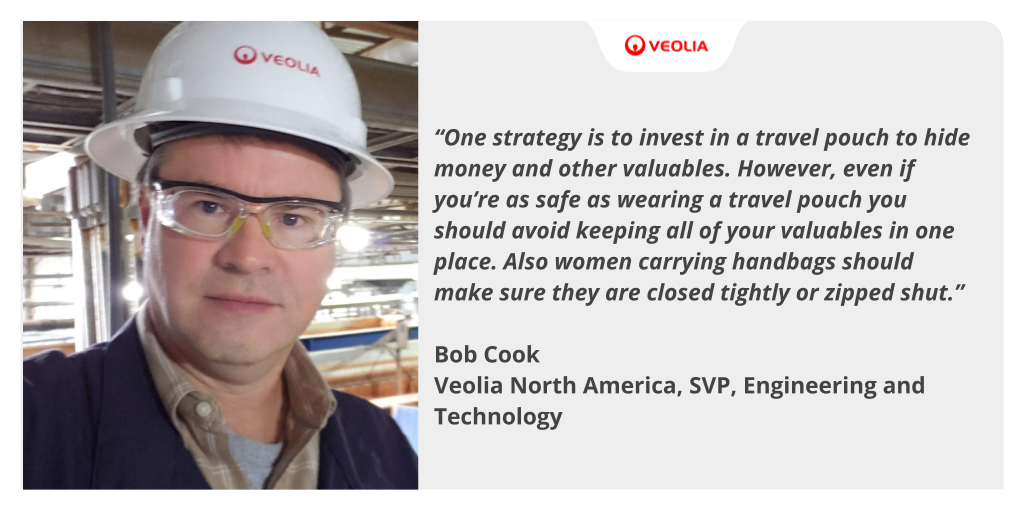 Bring chargers and converters. If you are traveling out of the country make sure to bring the appropriate charging cords, converters and external batteries. Having your electronics on and charged is critical to getting home safely if you are in a bind.
Staying Safe While on Vacation
Don't let safety take a vacation while you do! Now that you have prepared for a safe trip continue being safe by keeping your wits about you, keeping track of your money, and knowing/identifying your resources.
Stay Alert and Vigilant
Look out for scams! Different countries may have their own unique tourist scams. Make sure you are able to recognize them. Advanced technology has made modern life easier, but also enabled new scams. Some common frauds include broken taxi meters, phony WiFi spots and the "let me take your picture" scam.
Be aware of your surroundings. As clichéd as it sounds, it is important to be aware of your surroundings and trust your instincts. When you are distracted, you can miss signals for danger, such as a suspicious individual or an oncoming vehicle.
Mind what you eat. While it's fun to try local dishes, don't get so caught up in the excitement that you ignore risks. If contaminated water washed your food, you may get sick. Keep allergens in mind and beware of the quality of any raw food you eat.
If you're out at night, don't go alone! Be sure to travel in groups of two or more.
Put your phone away. When trying to navigate unfamiliar streets, staring at maps on your phone can distract you from walking safely.
Don't draw attention to yourself. When traveling to a new city, be aware that there might be a customary way to dress. You can avoid drawing unwanted attention to yourself by not straying too far from the norm.
Drink water, but know where it's coming from. With fun activities all around, it's easy to forget the basics. Stay hydrated, especially if altitude is involved. Dehydration can cause serious symptoms that could ruin your trip. Mind the source of your water. If there is any question at all, buy a bottle; it's worth the money.
Keep track of your belongings. In crowded areas, wear your backpack on the front of your body. It's not enough to just know where it is, it's important to be able to see it, reducing the chances of theft.
Money Matters
Use local ATMs. If you did not already take out cash before you left, don't use the airport ATMs, as they have high conversion charges and are in very public spaces. Use local ATMs, check that you have plenty of space around you, and use your hand to cover the screen as you input your PIN.
Know the value of your money. When traveling in a foreign country be aware of the value of the local currency. It's important to know the value so you don't expose large amounts of money to vendors who might take advantage of you or even rob you.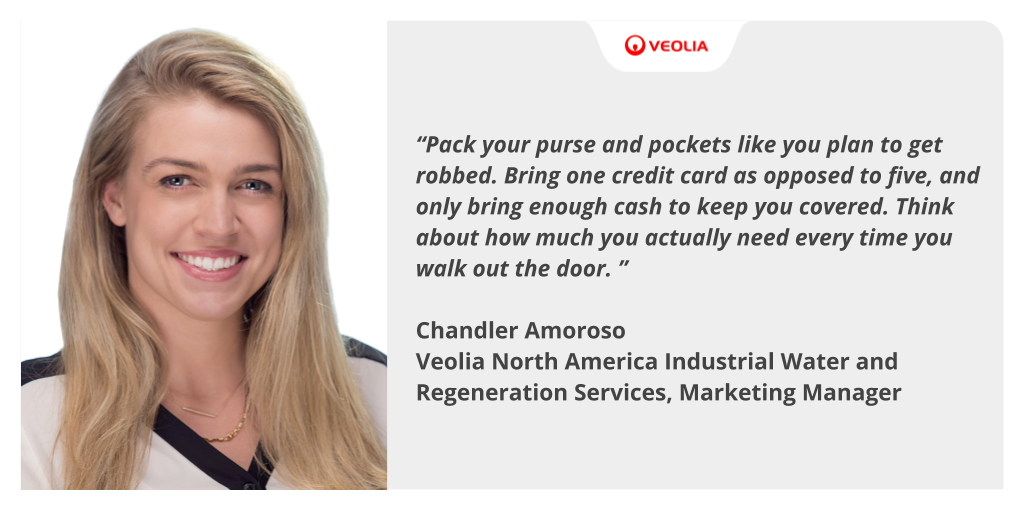 Know Your Resources
Identify hiding places. Similarly to packing money in different places, once you arrive at the hotel, hostel or homestay, locate safe hiding places that are not all in one spot to keep your valuables safe while you are out enjoying your trip.
Know how to communicate. If you don't know the native language of the city you are visiting, know how to ask for help. Whether you download a translation app or simply write the essentials down on a slip of paper to carry with you, having a way to communicate "where is the nearest hospital?" or "I need the police" is critical.
Plan ahead for international cell phone service. If you choose to rely on WiFi that is dependent on location, be sure to have a backup plan when you're out and about. Know what to do and where to go if you needed a phone and can't access the internet.
Know emergency resources. Always know the emergency phone numbers for the country you're in. Be able to locate local hospitals, police and embassies in case of danger or injury.
Culture of Safety
Veolia holds a strong commitment to safety and encourages employees and people like you to make safe behaviors a core part of everything we do. Our employees actively share and participate in our culture of safety. Join us in our commitment to safety by sharing experiences and safety tips you have learned while traveling on vacation.
Share how you stay safe on vacation with us by tagging @Veolia_NA on Twitter!