What does a sustainable future look like for the oil and gas industry, and how do we get there?
"Building a sustainable future" has become more than just a buzzword. When it comes to the environment, more and more companies are actively looking for ways to be part of the solution rather than the problem. But before you can find ways to reduce your company's impact, you must first understand what that actual impact is.
Recently, Royal Dutch Shell announced its accelerated strategy to drive down carbon emissions. Shell has established a goal of 6% to 8% for reducing emissions by 2023 and intends to achieve net zero emissions by 2050. For large oil and gas companies like Shell, developing a tangible way to measure or calculate their environmental impact is the first step toward implementing sustainable, cost effective, and profitable solutions. Digitalization is helping companies jumpstart their sustainability goals.
What digitalization means for oil & gas companies
Sustainability involves creating the most efficient and productive processes possible. Reducing environmental impact starts with maximizing efficiencies for current operations using existing resources and energy. For example, by some estimates, offshore drilling platforms run at only 77% of their maximum production potential. That's a performance gap of about $200 billion resulting from production bottlenecks, accidents, and suboptimal use of resources.
These inefficiencies not only cost oil and gas companies billions of dollars, they also lead to wasted energy, time, and materials. However, with the developments in the Internet of Things (IoT), cloud based computing, and data science, it's now possible to capture more granular information on buildings, systems, and equipment than ever.
By monitoring resource and energy use of entire oil and gas operations, companies can improve performance and output while minimizing waste. Digitalization helps identify the most important metrics that affect sustainability and offers the path forward for implementation.
New possibilities for ESG digitalization
Hubgrade is a digital platform that provides smart solutions to facilitate collecting and analyzing data in real-time from your entire operation to ensure you're making business decisions that will have maximum impact. Combining new information technologies with smart sensors and meters, Hubgrade assures consistent monitoring and measuring a wide variety of metrics:
Temperature
Pressure
Flow
Electrical intensity
Humidity
Power emitted or consumed
Average, peaks, and dips in consumption
Incidents
Other KPIs critical to your site's operations
With digitalization through artificial intelligence, advanced machine algorithms, augmented reality tools, and more, you can identify the key metrics that impact your refinery operations. Once you've identified those metrics, you can make changes that will improve them.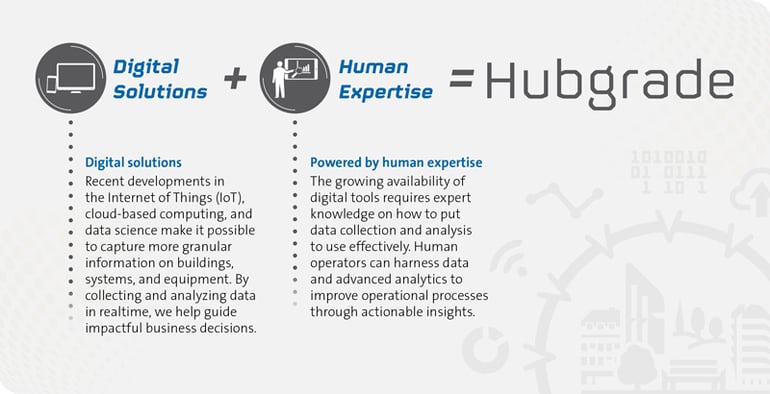 There are three primary levels for the digitalization of refinery processes:
Finding direct opportunities
Identifying indirect opportunities
Showing your progress
Finding direct opportunities
The first step toward realizing the benefits of digitalization at a refinery or production facility is to find direct opportunities to maximize benefits. By closely monitoring each of your processes, materials, and energy use, you can see trends, where your highest costs are and why, and where there is waste or room for improvement. That information is then used to optimize the entire operation.
For example, by putting Hubgrade to work in water treatment plants, refineries can see how much energy and chemicals they are consuming and compare those figures to the minimum amount needed to carry out the process. Once they have those numbers, they can potentially decrease the amount of water and chemicals used, reduce their environmental footprint, and operate in a more sustainable way.
Identifying indirect benefits of digitalization
In addition to direct reductions and savings in costs, materials, and energy, digitalization in the oil and gas industry also produces indirect benefits. Working and solving problems remotely is typically an effective way to reduce environmental impact indirectly. Digitalization allows companies and employees to diagnose, troubleshoot, and even fix issues from remote locations, which leads to less travel, contributing toward a reduction in emissions.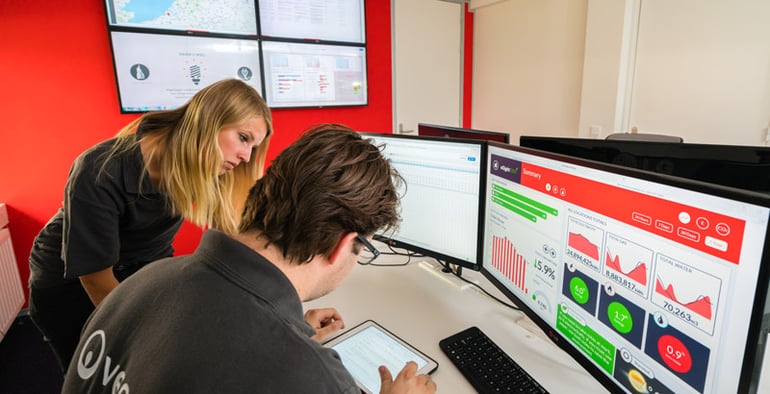 Whether you are completing a sustainability assessment of your facility, require emergency assistance during a crisis, or anything in between, consultants can utilize the Hubgrade system to help determine the problem and the best solutions.
Another indirect benefit of digitizing your facility through Hubgrade is preventing equipment rundown. By monitoring and optimizing equipment performance, you can help catch major issues early and avoid catastrophic failure. As a result, you save on the cost of new equipment and of disposing of the old equipment, both of which help create a more sustainable operation.
Show your progress, receive the credit you deserve
With Hubgrade you can evaluate your carbon footprint, water index, and biodiversity, and then define where you want to make improvements. The platform also allows you to share your progress with your stakeholders in order to potentially receive increased funding and support for additional projects focusing on sustainability and efficiency that will benefit the company in the long term.
To make big changes you need to show the major compounded benefits, so you can convince the parties involved that the investment in the future is needed right now. Digitizing your facilities and utilizing Hubgrade helps you see where there are opportunities to improve, assists in taking advantage of those opportunities, and allows you to champion the completion of sustainable projects.
Learn more about how Hubgrade can improve the sustainability of your operations