As the war on plastic straws rages on, wrapping paper has seemed to be overlooked as a threat to our environment, but plastic lined wrapping paper can be worse. Shiny, colorful wrapping paper lined with plastic can be filled with dyes or even glitter, making it a recycling nightmare. Hundreds of thousands of trees are used to create this holiday item that is ripped up in seconds and thrown into the garbage. Sometimes we throw our wrapping paper into the fireplace but this can be harmful to our families. If it is lined with plastic, the chemical reaction of the heat can release harmful toxins into the air. Our holiday wrapping doesn't have to end up in the landfill or harm our environment, if we look to more sustainable practices.
How Your Holiday Decorations Contribute to Ocean Pollution
It is not just the wrapping paper that contains plastic, but also the tape, ribbons, bows and glitter that are unrecyclable. Most single-use plastic eventually make their way into our waterways, contaminating our oceans and wildlife. According to the Tara Expeditions Foundation, "Each year some eight million metric tons of plastic are discarded into the sea. Bottles, packaging and other waste gradually break down into miniscule fragments, which proliferate throughout the oceans." These microplastics are ingested by fish and make their way up the whole food chain, threatening our health and the environment. The good news is that there are many alternatives to conventional wrapping paper and decorations that are eco-friendly and can be even more festive than your traditional wrapping.
4 Ways You Can Recycle That Wrap
Reusable gift bags
One of the easiest things to do is reuse gift bags: treat them as you would treat reusable shopping bags. Gift bags can be reused every year, save your family money and eliminate having to clean up shredded wrapping paper. One holiday tradition that is similar is reusing stockings to put above the fireplace, reusing gift bags can be a fun new holiday tradition. What's more is that they are readily available at most stores and available in many different styles.


Repurpose items from your home
For those who are looking for a cheap and easy alternative to wrapping paper, look for items around your house that can be repurposed. Grab old newspapers or paper grocery bags and tie together using cotton string or twine. You can add sophistication to your gift by grabbing a twig from an evergreen or tie in some dehydrated fruit. This wrapping is compostable or recyclable, saves money and avoids waste.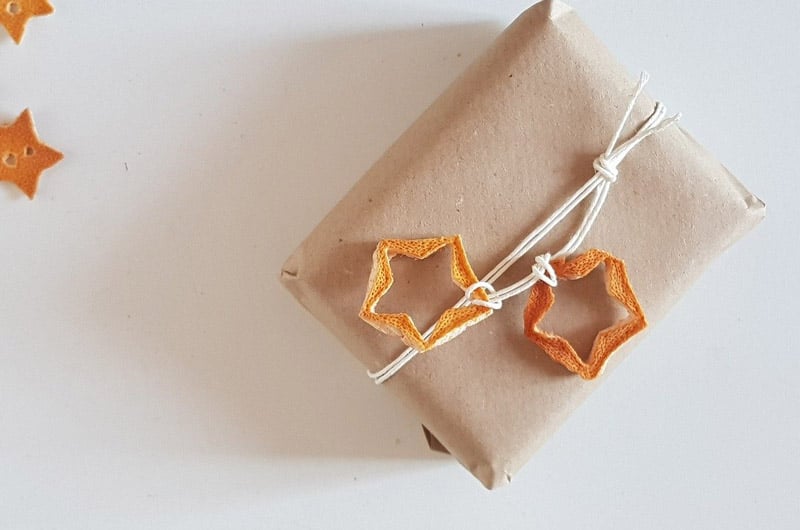 Use fabric to wrap a present
Another reusable idea is to use scarves or cloth to wrap a present. See what fabric you have around the house, or visit a thrift or antique store for truly unique patterns. Using fabric to wrap your gifts will cut down your wrapping time and can be used over and over again. Furoshiki, the ancient Japanese tradition of wrapping cloth, can be used for a wide range of gift sizes and shapes and is another easy way to avoid waste when wrapping.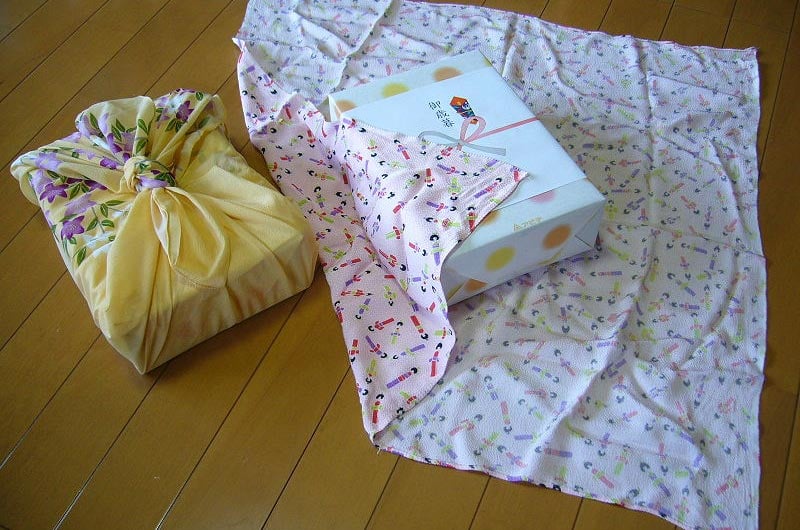 Image sourced from Wikipedia
Eco-friendly wrapping paper
There are also many eco-friendly brands of wrapping paper that can be composted or recycled. Look for brands such as Wrappily that use soy-based ink or acid-free ink on recycled paper. Wrapping paper made from fast-growing trees like bamboo is more environmentally friendly than those made of paper from trees that take generations to grow. Botanical Paperworks makes cards and gift tags that you can even plant after use. Reusable and organic materials are always the best option for a landfill-free holiday. Eco-friendly wrapping paper can be a great way to thoughtfully wrap your gifts and add character.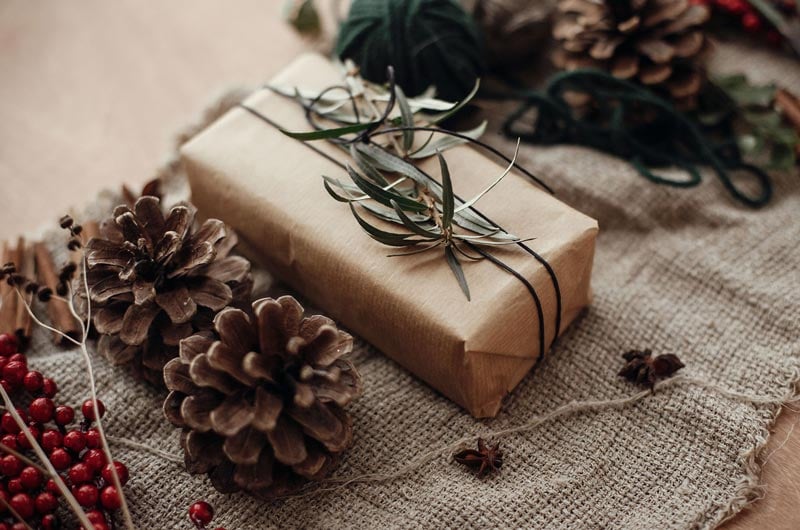 Shifting consumer habits
As we shift our habits to replace single-use items like plastic straws that can't be recycled, it's also important that we look at other ways we can reduce our impact, even during the holidays. There are many options when it comes to wrapping gifts in an eco-friendly way, and your family can actually save money if you reuse your gift bags or fabric year after year. When there is a story behind why we choose to wrap our gifts in a sustainable way, we add an extra layer of thoughtfulness that can be shared with our loved ones.
Learn how Veolia is helping resource the world in our latest sustainability report