Water reclamation P3 helps Hawaii strike balance with natural resources
From remote tropical islands to arid sections of the American West, rainfall shortages and population increases are adding to the challenge of managing limited water resources. In these environments, cities and towns need to maintain a good standard of living for residents while ensuring resources will be available in the future. As a result, many local governments have refocused efforts on water conservation and efficiency programs. They are turning to water reuse and reclamation solutions to maximize water resources and minimize their water footprint.
What do cities need to think about when pursuing water reclamation solutions?
Cities and towns need to consider three factors to help them meet their water sustainability goals:
Finding the resources to develop, build or make upgrades to their water infrastructure.
Implementing effective project management from conception to completion of the capital project in order to make the most of budget resources and avoid delays.
Selecting long-term operational expertise to make the most of community resources while complying with strict environmental standards.
Increasingly, municipalities in regions where water is scarce are turning to the private sector to meet these needs.
Public-private partnerships offer a customized solution
Public-private partnerships (P3s) provide customized access to expertise, labor, technologies or capital, allowing cities to draw benefits from private sector resources, while maintaining ownership and control. The extent of ownership, financing and risk transfer to a private partner can vary. For example, an operations and maintenance (O&M) contract allows the public entity to shift operational responsibility and risk to the private company, while still maintaining control of the physical assets. These contracted professionals can provide solutions for long-term needs such as water asset management, data management and analytics, metering and billing, and capital program management that municipalities otherwise might not be able to manage on their own.
A public-private partnership in Oahu
An example of how P3s can help manage water resources can be found in Hawaii, famous for its tropical beauty and one of the most popular tourist destinations in the world. Like many other parts of North America, these Pacific islands face challenges caused by increased tourism, a growing population, and diminishing natural resources, particularly water. On the heavily populated island of Oahu, climate forecasts predict a reduction in rainfall of as much as 65 percent in our lifetimes, prompting the island's water authorities to search for innovative solutions to sustain growth and preserve fresh water resources.
Supporting water conservation on the island
In the Ewa region of Oahu, located about 20 miles west of Honolulu, the Honolulu Board of Water Supply has benefited from a O&M relationship that focused on water reuse and reclamation solutions. This helped the Board maximize community resources while adhering to stringent reuse water quality standards. By taking treated wastewater and reusing it for industrial and irrigation purposes, the plant has been able to ease the burden on the local water supply. The plant has made the most of advanced technology to divert treated wastewater that otherwise would have been released into nearby coastal waterways. The reclaimed water is used instead for lawn and golf course maintenance as well as for industrial operations.
The water reclamation plant in Ewa, which is the largest in Hawaii, treats an average of 13 million gallons of wastewater per day, converting 92 percent of it into recycled water. To help streamline operations, the plant recently invested in the upgrade of the filtration system to reduce the demand for electricity, while also installing ultraviolet disinfection technology to make sure the recycled water is as clean as possible. In the process, the Board of Water Supply estimates that the plant has helped save an average of 10 million gallons of fresh water in island aquifers and other reserves each year.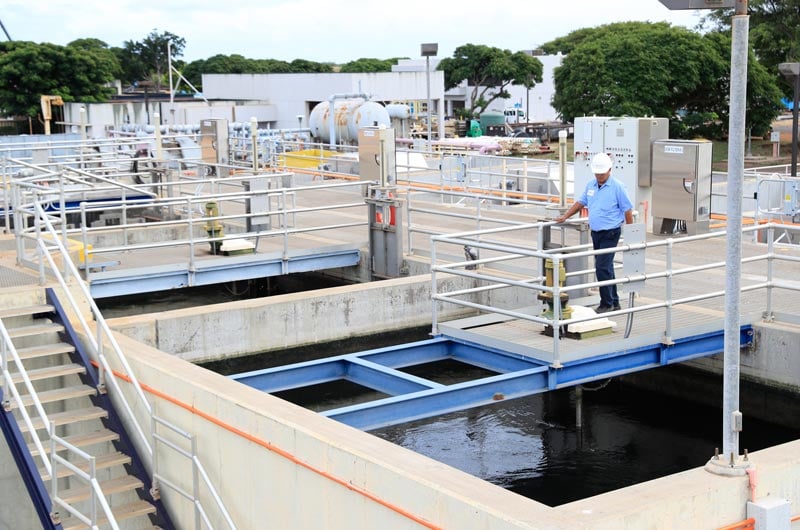 Thinking strategically about water resources
Barry Usagawa, the Board's water supply program administrator, said the Board is proud that it was quick to recognize the benefits of water reclamation, as hundreds of other communities across North America have made the same decision over the past two decades. In that time, the Board has continued to invest in the plant, which is strategically located in a region that has been zoned for steady population growth in order to ease the burden on nearby Honolulu. Thinking strategically, he said, is critical for communities challenged by limited resources.
That strategic thinking also helps support the Ewa region economically. Known as a "golf course mecca," Ewa has more golf courses concentrated within its borders than any other part of Hawaii. That's why it makes sense to provide reclaimed water to ensure the courses are properly maintained at reasonable rates. Reclaimed water is also used to support four nearby power generation plants. In the past, they had relied on treated drinking water to clean their systems along with chemicals and minerals for scouring. By using the reclaimed water, the plants help reduce the need for chemicals and associated equipment parts, eliminating the need to have them shipped to the island on a regular basis. This helps shrink the island's carbon footprint.
According to Usagawa, water reclamation has become a cornerstone of the state's strategy for water management, broken down into watershed management, conservation and diversification of water supplies.
The result? A distinctly modern take on an ancient view of natural resources that dates back centuries in Hawaii, when native people emphasized the need to be in harmony with the resources around them.
"It's all about striking that balance, using what you need and making sure there's enough for the future," Usagawa said.
Learn more about the community benefits of the public-private partnership with Hawaii.