The U.S was once the global leader in semiconductor manufacturing but has now fallen behind industry giants throughout Asia. Global demand for semiconductors continues to grow, and the U.S. government is ready to bring manufacturing back to the U.S. The CHIPS Act (Creating Helpful Incentives to Produce Semiconductors) is one of the first significant steps the government is taking in this pursuit.
What is the CHIPS Act?
The CHIPS Act was passed by the U.S. Congress in July 2022 and intends to strengthen domestic semiconductor manufacturing and research. With nearly $280 billion in funding, the potential impact on the domestic semiconductor market is significant.
Estimates predict the CHIPS Act will increase US GDP by $287 billion and provide 2.8 million jobs by 2027. This increase would occur at a time when the semiconductor industry is struggling to keep up with exponentially growing demand, and U.S. based semiconductor manufacturing has been on a steady decline. Over the last twenty years, U.S. manufacturing capacity has dropped from 37% to 12% of global production.
During this same period, Asia has ramped up production and now accounts for 75% of total production capacity. U.S. reliance on foreign countries for this crucial piece of technology is problematic for many reasons, and one of the most obvious was highlighted by COVID-19 – supply chain disruptions.
These delays have echoed across industries, from automotive to consumer electronics and appliances. Domestic production may limit U.S. exposure to these issues in the future, particularly as the semiconductor market grows at an estimated 12.2% annually.
Impacts of the CHIPS Act on the semiconductor industry
Of the CHIPS Act's $280 billion in funding, $52.7 billion will go toward incentivizing domestic production, R&D, and workforce initiatives. Most of this contribution will be for developing fabrication and assembly facilities.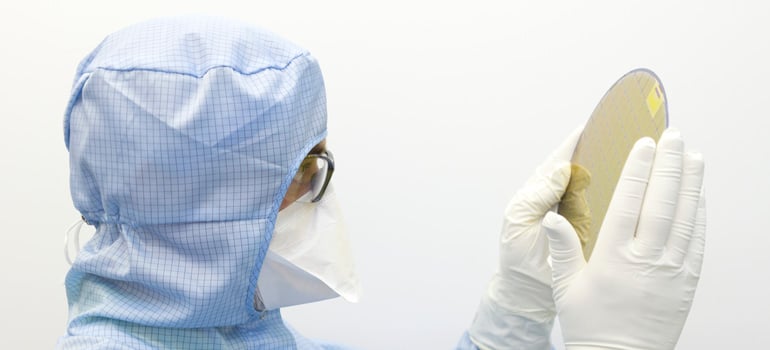 After the law's approval in July, several semiconductor companies immediately implemented expansion plans to take advantage of these incentives. For example, by August 2022, Intel had chosen a site near Columbus, Ohio, for a new $20 billion plant, and Samsung invested over $17 billion into a new fabrication facility in Austin, Texas, and these expansions are just the beginning. Undoubtedly over the next several years, we will see continued manufacturing capacity growth within the U.S.
Increasing hazardous waste generation
While increasing production capacity has many benefits, there will be a ripple effect in the downstream and support industries. These industries and service providers will need to keep up with industry growth to facilitate the smooth expansion.
Waste management is one of the industries that needs to adapt to this growing production capacity. Electronics manufacturing in general, and semiconductors specifically, produce a significant amount of hazardous and non-hazardous waste.
This waste typically consists of heavy metals, solvents, and corrosive compounds in both solid and liquid forms. Each type of waste requires unique management and disposal strategies. Typically, solid waste is processed at designated hazardous waste disposal facilities, but in some cases, the heavy metals can be recycled. Alternatively, liquid waste requires purification in order to remove solids before disposal.
As semiconductor manufacturing increases, so will waste generation, and the waste management industry will need to meet this demand to prevent a bottleneck in semiconductor production. While the simple solution appears to be expanding waste management companies, the industry is already spread thin and struggling to meet current capacity demands. Continued expansion alone may not be enough to keep up with waste generation.
How will the waste management industry handle the growing demand?
In addition to ramping up existing systems, disposal companies will need to adapt and develop new solutions. For example, new techniques to increase the efficiency of existing disposal, recycling, and processing systems can go a long way.
Another consideration is that it may not be feasible for a single waste management company to build new hazardous waste disposal sites near each fabrication plant. Partnering with regional waste management providers to reduce haul distances and build up capacity for new production facilities can be a financially efficient way to meet growing demand. This option leaves more capital available for R&D and other waste processing facilities.
Selecting the right waste management provider
One of the best paths forward for industries seeking solutions to growing demand is to partner with a company, especially one that has been paying close attention to the CHIPS Act and has developed plans to meet the growing waste management needs of the semiconductor industry. To pick the right provider, look for a partner that has a breadth of facilities, strong relationships with local communities, and enough experience to understand the complexities that the CHIPS Act will bring about.