The market for microgrids continues to be on an upward trend. According to Navigant Research, there are over 1,860 project entries at the end of 2017, an increase of around 200 from the year before. While a microgrid can be implemented almost anywhere, urban settings are a prime example of where microgrids have the most potential to provide resilient energy supply to ensure the safety, comfort and continued operations of buildings and campuses. It is also becoming increasingly common for real estate developers to consider decentralized energy concepts early on in the planning stages of a microgrid project.
Veolia was recently selected to serve on a panel to share its experiences and lessons learned developing microgrids in urban environments. The topic was the basis of a recent white paper Veolia published, Navigating Local Utility Requirements for Microgrids: Lessons from New York. We recently sat down with Veolia's Jack Griffin and Johanna Ghabour to get their perspective on the best practices of working with local utilities to implement a successful microgrid. Here's what we asked:
What should organizations be aware of before the planning stages of a microgrid project?
Organizations looking to implement a microgrid need to be aware that working with utilities can be a dynamic process, both technically and operationally. On the technical side, they "need to, and are increasingly adapting with the concept of networks flowing energy in multiple directions," says Griffin. Progressive utilities are investing in human capital, and upgrading their engineering staffs, but there are utilities that are still lagging behind.
Microgrid implementation in urban settings pose unique challenges because of the complexity of interconnecting with the local grid, and the utility is instrumental in the process. Early engagement is key to working with utilities; "It works when we are partners from the beginning to the end so they feel as if it's their project, too," says Ghabour.
How and why are organizations approaching the decision that a microgrid makes sense for them?
In any microgrid project, a major driver organizations evaluate is the need for resiliency in their operations. In New York specifically, "post-Sandy developers began rethinking what resiliency means, in any urban setting the need for resiliency is crucial," says Ghabour. Organizations want to offer tenants, residents and visitors the security of continual energy during blackouts.
Other concerns that drive organizations to consider microgrid implementation are financial savings and sustainability. Depending on the customer, goals can vary from lowering carbon emissions to cutting costs, independence from the grid and durability.
What are some of the hurdles and challenges that organizations need to plan for in developing a microgrid project?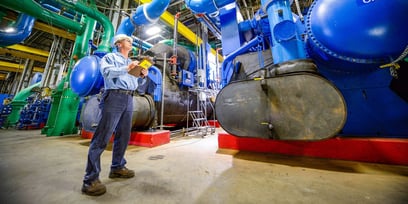 Hurdles that arise during the planning and construction of a microgrid project can stem from "getting the utility aligned with the goals of the microgrid and how it will interconnect with the grid," says Ghabour. This includes tariff negotiations and infrastructure upgrades in a complex and dense population environment.

"Maintainability and operability," says Griffin. Aside from the hurdles that arise during implementation, a microgrid does not run on its own without experienced staff. A system that is complex to construct is just as, or more, complex to maintain.
How are newer, third-party business models and turnkey project approaches impacting the market?
Traditional project delivery models involve multiple stages and procurements which can create a complicated team structure. From the energy consultants for development, engineers for design, to construction management for building, and then finance and operations, it can be a long road to getting a project done. Having a qualified third-party developer to manage the project from the beginning to the end centralizes and streamlines the process.
Third-party, microgrid as a service business models are in turn helping to scale the market by making microgrid projects more accessible and easier for campuses, organizations and businesses to implement.
With new technologies and systems on the horizon to change how energy is delivered, the market has a high potential for growth. It's up to organizations, developers and the utility to work together to seamlessly deliver resilient operations to customers.
Read more about how we work with utilities in urban settings to successfully implement microgrid projects by downloading our white paper!