Veolia's energy market advisory services group recently released its quarterly energy markets newsletter for Q1 2018. The newsletter is intended to highlight leading stories and trends in energy markets that may impact future energy prices and customer strategies.
Looking back on the first quarter of 2018, we zero in on five big areas relevant to markets such as
An update in the natural gas market
What does the Federal Tax Cuts and Jobs Act mean for

future delivery costs and energy tax credits?

FERC Order impact on energy storage and implications for the commercial user.
Rebuilding Puerto Rico with a resilient power grid.
A Smarter Solar Incentive for Massachusetts.

How do the SREC and SMART incentive programs compare?
Below we touch on just some of the highlights:
Future of Energy Storage
Microgrids and the use of distributed energy assets (DERs) with the grid is on a steep incline globally. Green Tech Media reports that distributed energy assets may account for up to one-third of the total U.S. electricity supply by 2020, and that the U.S. energy storage market will increase by 15 times between 2017 and 2023.
Along with continued, and increasing, use of DERs comes an increased need for energy storage. Veolia's energy markets team highlights that Order No. 841 from the Federal Energy Regulation (FERC) "removes barriers to energy storage participation in the wholesale capacity, energy and ancillary service markets."
The new rules are expected to enable storage to offer its full value to the grid including shifting demand from expensive and often dirty peak hours, to cleaner cheaper generation; providing grid stabilizing services like frequency regulation and "spinning" reserves; and decreasing the need for upgrades to utility distribution infrastructure. As electricity storage prices decline and its ability to provide value grows, it becomes more economical for the user.
The unanimous decision to pass the order will impact the markets in which they are most used and will result in a more sustainable and resilient grid, exactly what Puerto Rico needs to be rebuild its infrastructure.
Rebuilding Puerto Rico
More than six months after Hurricane Maria, Puerto Rico is slowly recovering. The island is still littered with broken infrastructure and much work remains to be done. About 16 percent of the island is still without power, many just recently getting back online.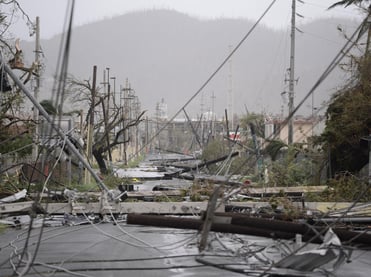 The price of rebuilding surpasses billions of dollars in government infrastructure and personal individual assistance grants. Government officials, engineering firms and technology investors are now looking at the massive opportunity that lies in Puerto Rico.

In order to ensure the future resilience of the island, implementing technology to support the central grid and mitigate future risk is critical. Our energy markets team reports that "If done right however, all of these infrastructure improvements will take time and a considerable amount of capital."

The long term benefits, though, outweigh the high price tag on the improvements. With Puerto Rico situated in a high-risk area for flooding and hurricanes, thinking ahead will save the island from additional damage when the next disaster strikes.
Download the quarterly market update to learn more!