In both summer and winter, a few changes can make a drastic impact on your building's utility bills. We share some simple and advanced solutions. Follow our 10 building energy efficiency tips to reduce your energy consumption and costs.
Utilize automated fault detection and diagnostics services
Unlike a binary alarm system, fault detection and diagnostics (FDD) services track a facility's actual design and sequence of operations, identifying areas for potential optimization. FDD is proactive rather than reactive, designed to reverse drift and maintain a building's design level of optimization. Our Hubgrade FDD module includes more than 200 discrete expert rules developed to monitor energy meters and HVAC systems and equipment.
There are also rules for Global Sensors and Whole Building Energy deviations relative to a baseline and/or a predicted model. When a less optimal condition is detected, a fault is automatically triggered and displayed on a user's dashboard. These faults are ranked in "high," "medium," and "low" priority. Relevant trend data is also displayed, along with possible causes and remedies.
Conduct and energy audit
Through a focused building energy audit, all aspects of the facility's energy consumption are analyzed and potential energy efficiencies yielding cost and energy savings are identified. By performing a detailed review of facility utility consumption, energy engineers can offer recommendations for potential energy conservation measures and actionable KPIs to improve usage, spend, and energy efficiency.
Inspect shut off valves
With properly functioning shut off valves, heating costs can be reduced by up to 20 percent annually. Inspecting these valves on a regular basis is important:
High pressure valves (over 150 PSIG): weekly to monthly
Medium pressure valves (30 – 150 PSIG): monthly to quarterly
Low pressure valves (below 30 PSIG): annually
Maintain steam traps
Defective or malfunctioning steam traps can compromise the overall reliability of your steam and condensate systems, in addition to increasing maintenance and fuel costs. Like all mechanical components, steam traps will deteriorate over time. Therefore, inspecting and testing steam traps regularly is very important. Develop a simple inspection and maintenance plan, and follow these tips to help keep your system running optimally:
Keep your system free from dirt and grit. This is attributed as the number one cause of system malfunction, early fatigue, and failure.
Use a computerized system to control and monitor processes, alert operators to any issues, and maximize efficiencies.
Perform a heat loss survey on all steam traps annually.
Visually inspect steam traps every 120 days.
If present in your steam system, administer an ultrasonic test regularly to test the bypass valves, ensuring steam efficiency and preventing condensate from exiting the system (a serious safety threat).
Inspect and resolve any system design or mechanical issues, including improper piping or trap misapplications (typically resulting in water-hammer) and oversized traps (which typically yield inefficiencies due to rapid cycling).
Survey all heating equipment prior to seasonal shutoff.
Complete a draft inspection
Up to 20% of heat loss in a building occurs due to gaps around windows and doors. Check these areas as well as chimneys, skirting, and other exterior walls for air leakage annually.
Implement an energy management system
An energy management system (EMS) allows building managers to visually display building usage, equipment performance, tenant billing information from their desktop and identify potential energy conservation measures yielding cost savings. A customizable, web-based energy management dashboard, can help building operators better manage energy to reduce costs and streamline tenant cost recovery.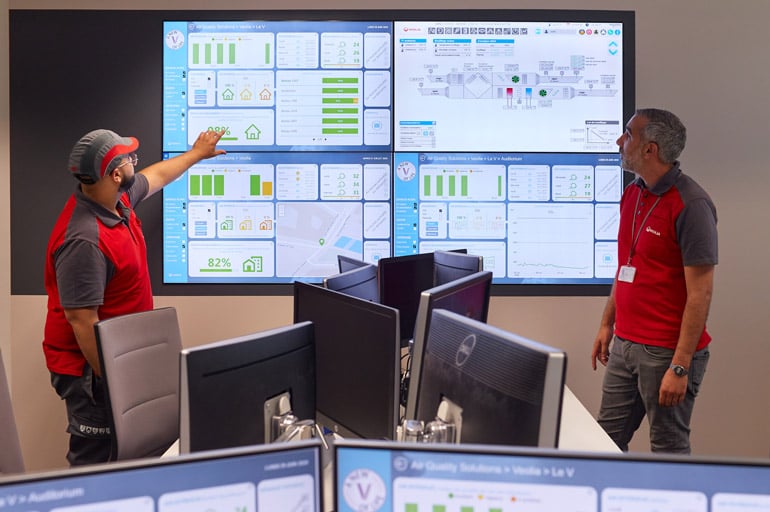 For energy management applications, EMS platforms can collect 15-minute interval data and establish an accurate energy baseline by normalizing against variables that affect energy consumption. This baseline serves as a standard against which future changes in energy performance are gauged.
Graphs such as the demand intensity chart will enable the customer to quickly recognize and react to unusual consumption, while tools such as baseload analysis highlight the energy being wasted during off-hours period — allowing building owners to optimize their energy utilization, accelerate energy cost recovery, and base forecasting and planning on precise consumption data.
Insulate steam lines
Often, the insulation that covers your steam pipes, valves, and fittings can be damaged or removed and not replaced over time. By insulating steam and condensate piping, energy losses can be reduced by up to 90 percent — eliminating a potential safety hazard and major source of wasted energy. Yielding a payback in as little as two years, insulation pays for itself over time in energy savings. Insulation also helps to ensure proper steam pressure levels for mechanical equipment. Read our insulation tips below and start to save:
Conduct a survey of your steam piping to identify energy losses: Surfaces over 120°F should be insulated, including boiler surfaces, steam and condensate return piping, and fittings. Damaged or wet insulation should be repaired or replaced immediately.
Eliminate sources of moisture prior to insulation replacement, such as potential leaking valves, pipes, tubes, or adjacent equipment.
Install removable insulating jackets on all valves and fittings so that it may be detached easily for inspection and maintenance.
Following installation, review the overall steam system functions, since changes in heat flows can influence other parts of the steam system.
Inspect your pipes and fittings frequently to ensure insulating properties.
Submeter your building
Sub-meters measure the amount of energy used by a tenant from the building source (the electric panel) in the areas that they lease (their space). Using a third-party company to meter, measure, read, and bill the sub-meters provides a straightforward and clear-cut way to allow tenants' shares of energy usage.
Sub-metering allows real estate companies to recover utility costs associated with tenant energy usage. Beyond real estate, sub-metering can be used to track usage and cost for central plants, HVAC systems, and other critical infrastructure.
Consider capital improvements
While the cost might seem prohibitive at first, innovative financing models and solutions to advance capital improvement projects are available. Installing energy efficient systems and infrastructure can make a huge difference in energy efficiency and cost savings and will often pay for itself over time.
Summer energy saving
Lastly, here's some tips to help stay cool during the summer, which is key to maintaining a comfortable and productive workforce. By following some simple tips, you can maintain a cool environment at your facility, while also saving energy and money:
Physically survey tenant energy usage and evaluate after hours use.
Adjust building thermostats to a warmer setting during non-business hours and limit tenant access to thermostats.
Install blinds or shades to prevent heat gain through your windows.
Reduce exhaust and outdoor-air ventilation rates within codes. Adjusting ventilation in unoccupied and low-density areas will reduce energy use, while maintaining comfort levels.
Keep air filters clean for maximum efficiency and to avoid impeding air flow or damaging equipment.
Schedule regular maintenance for your cooling equipment to ensure it is operating efficiently and properly.
Replace traditional incandescent light bulbs and fluorescents with LEDs and install occupancy sensors.