Businesses, large and small, are increasingly making commitments to operate in a more sustainable and environmentally conscious manner. These commitments typically include a pledge, or time activated goal, to consume or produce resources in a more efficient and circular way. Providing zero waste to landfill solutions, reducing carbon emissions, or being 100% powered by renewable energy sources are just a few examples of the ambitious goals being set by today's corporations.
Making commitments and setting goals is the first step towards being a more a sustainability driven organization. Translating these into actions that achieve the intended results, though, is not always easy. On May 9th at the US Chamber of Commerce's (USCC) 2018 Sustainability and Circular Economy Summit, Veolia's Senior Vice President Mike Byrnes will participate in a panel to discuss what organizations can do to drive these types of sustainability goals down into their business models.
As a sustainability focused third party operations partner, Veolia plays a key part in the circular economy by helping our clients and partners close the loop in their supply chain by turning waste into a resource and generating economic value in sustainable ways.
How Veolia Provides Sustainable Solutions
Veolia specializes in recovering, treating and reclaiming energy, water and waste, allowing those inputs to re-enter the supply chain for reuse and capturing their value for our customers in the process.
Our approach involves going beyond just offering services that reimagine waste, and takes a longer-term view by building performance and risk into our contracts and operations. Doing this allows us to be responsible for creating shared value which translates into energy and water savings for our customers and communities.
Here are just two examples of how Veolia finds value in our customers' operations and drives sustainable solutions:
Chicken Litter to Energy
In Lumberton, North Carolina, Georgia Renewable Power was looking for a sustainable and circular solution to address the excess amount of chicken litter present on farms. Partnering with Veolia to operate three power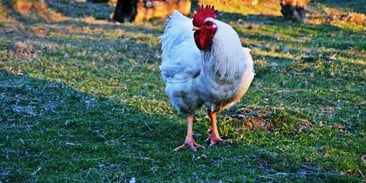 plants, the chicken litter, and other biomass, will be used to create energy.

The possibilities for integrating circular solutions such as this in projects across the country is just in reach. In Lumberton, specifically, the biomass-to-energy facility was converted from a outdated coal-burning facility.

Regenerating One of the Most Used Compounds
Sulfuric acid is one of the most used products in world. It is used across industries in products such as gasoline, detergents, batteries and rubber. Regenerating sulfuric acid allows our customers to limit their purchases of virgin chemicals, and therefore saving natural resources.

Sulfuric acid is one of two essential catalysts in the production of alkylate, and is critical in the refining industry. In New Jersey, Veolia operates and maintains the Phillips 66 Bayway refinery regeneration plant. Veolia receives the spent acid and regenerates into fresh acid that is returned back to the refinery for reuse. The process is zero-waste, cost-effective and sustainable.