A new year's beginning is a time for celebration, reflection and growth. And 2020 isn't just the start of a new year, it marks the beginning of a brand new decade. Individuals, companies, and industries alike are eager to put their best foot forward and enter the new decade reaching for new goals.
As we enter the new decade, we celebrate the progress our customers and partners have achieved in water, waste, and energy moving toward a more circular world.
Our Customers Making a Splash for Water Circularity
Water is critical to almost every aspect of human life. From personal use, to cleaning the city streets, the way our society handles water once we have used it is key to protecting one of the world's most limited natural resources. No amount of water is too small to save or reuse.

Finding Valuable Resources in Unlikely Places
Darling Quarter partnered with Veolia in the construction and management of Commonwealth Bank Place in Sydney, Australia to create a structure that depends on recycled water rather than freshwater for its operational purposes. The wastewater is taken from a sewer system in Sydney near the site, a process called "sewer mining." This wastewater then undergoes a series of treatments followed by a battery of tests before it's ready to be reused.
Using recycled water from the sewer is completely safe but is not used as drinking water in the building. Water for direct human consumption is only a fraction of the building's water needs. The recycled wastewater supplies water to the systems that do not require drinking water quality such as plumbing, garden irrigation, cooling towers, and other essential processes that use high volumes of water.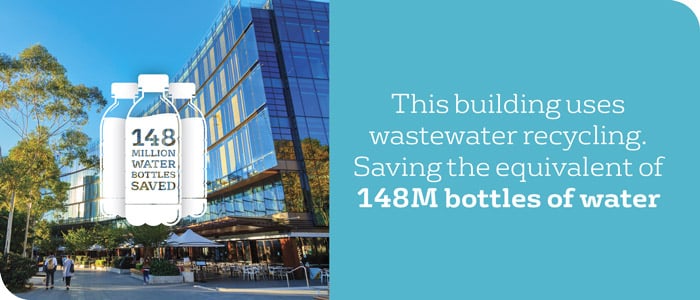 The Darling Quarter wastewater recycling plant processes about 65,000 gallons of wastewater per day and produces more than 42,000 gallons of recycled water per day. The process saves the equivalent of 148 million bottles of water per year — that's more than 20 Olympic pools! Investing in systems that use water in a circular manner is key to protecting our natural resources. We are proud to have partnered with Darling Quarter to create a structure that supports a cycle of reuse rather than rejection of usable waste streams.
Recycled Waste Drives a More Circular Tomorrow
On a global level, The World Bank reported that in 2016 there were 2.01 billion tons of waste generated. They predict that if we continue on our current path, the amount of waste generated globally will increase by 70% by 2050 to 3.4 billion tons.
Bringing this issue closer to home, the Environmental Protection Agency reported in 2017 that the United States alone generated 267.8 million tons of municipal trash with 139.6 million tons ending up in landfills.
Every Effort to Reduce Waste Matters
From global initiatives to employee's individual commitment to everyday recycling, we strive to lead by example and enable our customers to reduce, reuse and recycle waste. Part of our mission for 2020 is to educate and advocate for a more circular world in the decades to come.
Our team participates in big ways and small, sparking others to reconsider how they dispose of waste. Our Houston office employees took to the Galveston Bay earlier this year to pick up trash and other waste that had washed up on shore. Working with the Galveston Bay Foundation the team collected over 30 bags of trash finding anything from plastic straws and toys to even a carpet.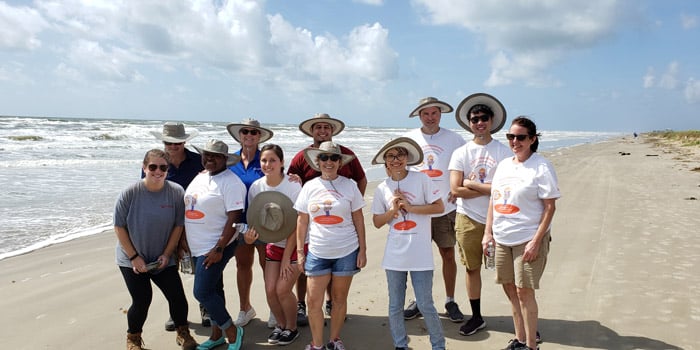 Veolia Houston team cleaning up Galveston beach
Circular Business Models for the Win
It's important to recognize companies that exemplify and champion circular business models. Loopsider video production and Veolia teamed up to highlight circular initiatives around the world, including a Mexican startup, EcoDom, that builds sustainable housing by turning plastic waste into recycled usable materials.
How do they do it? By gathering over two tons of plastic waste, grinding it down, and then melting the waste into thermally insulated panels. The startup is able to build sustainable and reliable housing made of entirely recycled plastics. And they do it for under $300. Hats off to EcoDom for their innovative circular business model that not only fights poverty but also helps protect our planet.
Energy is the Future, Make it Clean and Bright
Is the world's demand for energy increases, fossil fuels like petroleum, coal and natural gas become increasingly limited and present new environmental challenges. These fossil fuels emit contaminants that end up polluting the water and air.
The EPA states that industry was responsible for about 30% of the global greenhouse gas emissions in 2017, making it the largest contributor of greenhouse gases of any sector. This environmental effect represents a massive opportunity and unique potential for improvement and growth.
Organizations large and small can play a major role in the reduction of emissions by increasing efficiency, using renewable energy sources, and turning their waste into energy, helping to create a more circular system.
Using Olive Cake as Renewable Energy
As change-makers in the circular economy, Renault set out to build the first zero-carbon automotive plant taking strong initial steps to reduce the environmental impact of these greenhouse gas emissions.
Renault, a major car factory located in Morocco, now emits zero carbon and liquid discharge. By using "olive cake," which is a carbon-neutral source of renewable energy, the automotive plant is able to cover 100% of its thermal needs and avoid emitting 100,000 metric tons of CO2 a year.
The plant also utilizes a closed-loop water recycling system allowing it to cut the amount of water used to produce each vehicle in half, saving the site around 80,000,000 gallons of water per year.
With zero emissions and a massive reduction in water consumption, it's no wonder people look to Renault's Tangiers automotive plant as a global example for environmental excellence.
Energy is Everywhere, Even in Chicken Poop
As a major producer of poultry and eggs, North Carolina faces a major waste stream challenge: 5 million metric tons of chicken litter per year. There is no longer enough farmland to absorb this waste in the form of fertilizer as it contains nitrogen and phosphorous that pollute rivers, lakes and underground water reserves. Georgia Renewable Power is diverting much of this waste by using poultry droppings to produce electricity.
By converting a former coal-powered plant into a biomass unit that uses poultry waste, Veolia works alongside Georgia Renewable Power helping the plant process 285,000 metric tons of chicken litter. The plant produces 25 megawatts of energy per hour, which is enough to power more than 18,000 households.
A New Decade for Circular Business Growth
In 2020 we will produce more waste than ever before. We're also trending to waste more resources than we have left. This undeniable truth calls for a serious reflection from every contributor on this planet. But, thanks to the circular economy and the increasing number of companies joining the ranks, we can change the course of our resource consumption. We can take sustainability commitments to the next level and make circular solutions a reality.
Where in the world is the Circular Economy?
While the circular economy gained traction on the global scale in recent years, it has yet to solidify its presence in North America. Our team is looking forward to starting this conversation by exploring, participating and learning together with our partners. To kick off our efforts we'd like to invite you to explore our new circular economy page.
Reflecting on our own environmental impact and the efforts of our customers and partners, Veolia is taking this moment to celebrate, renew and challenge ourselves to reach for even greater goals to achieve a more circular economy. We invite you, your company and your industry to join us in taking a hard look at what we can improve.
What does the future of the Circular Economy look like?
What waste streams can we reconsider? How can we redesign our processes to use fewer resources or to reuse materials? Looking forward in the new decade and further, 20 or 50 years in the future, where do we want to be? What legacy do we want to leave?
These are all questions that focus on global problems we may not solve today, but we will never solve them if we don't get started. Our team is actively looking for partners in circularity. There are endless possibilities for new innovation to better use our resources — we just have to come together to discover them.
Are you or your company committing to new circular goals for 2020 and beyond? Join in the conversation and inspire your peers to make the new decade a circular one.